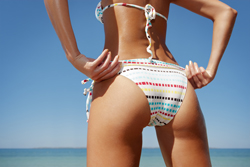 Buttock enhancement is a popular option for many people who feel that they're lacking in rear end volume. Gluteal enhancement can make a person's backside look curvier and more aesthetically pleasing.
Based on the recommendation of your plastic surgeon, either local anesthesia with intravenous sedation or general anesthesia will be administered for the procedure. You'll be able to discuss these options during a gluteal enhancement consultation, along with any other considerations you may have. When the anesthesia has been administered, incisions will be created, through which the silicone buttock implants will be inserted.
Interested in a consultation? To discuss the gluteal enhancement procedure with a qualified medical professional, contact us. You'll be able to learn more about buttock implants from board-certified plastic surgeon Dr. Hervè Gentile, a skilled and experienced surgeon serving the Corpus Christi area.