Breast Augmentation with Lift
Conveniently located to serve the areas of Corpus Christi and South Texas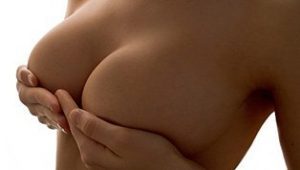 Pregnancy, child-raising, weight loss, aging, and many other factors lead to breasts becoming flat and less shapely. Breast augmentation and lift will leave you with incredible results!
Regain your feminine physique and improve your contours with a breast augmentation and lift.
Before and After Photos
What is a Breast Augmentation with Lift?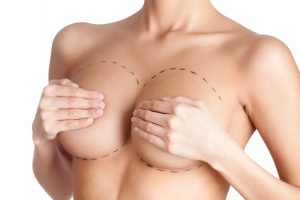 A breast augmentation with lift is a surgical procedure composed of a combination of techniques that rejuvenate your chest. The procedure will improve the shape, volume, and position of your chest. Many times, this procedure includes a reshaping of the areolas. Trimming unnecessary areola tissue will help them return to their natural shape and position on the breasts.
Often times, breast augmentation is not enough to truly improve the chest on its own. An augmentation procedure may simply leave you with saggy breasts with implants. When combined with a lift, the procedure will reduce sagginess and allow implants to truly re-sculpt your chest. This procedure is ideal for women who have decided not to have any more children and are looking to significantly impact the way they look.
Benefits
This procedure is ideal for improving the shape and profile of your breast. Some soft tissue asymmetries can be corrected and the overall appearance can be greatly improved with this comprehensive surgical procedure. A few other ways this treatment enhances our patient's appearance is:
Improve the profile of the chest
Reduce sagginess and stretched skin
Improve breast position
Enhance shape
Improved areola position
Rejuvenated appearance
This procedure helps to transform your chest in one procedure.
Among many of these physical benefits are psychological benefits. Women often enjoy a boost of confidence and improved body image after having their chest transformed.
Look better in low-cut tops, swimsuits, and in general with this procedure.
Candidates
This procedure is great for women who are in overall good health and looking to significantly improve their chest. If you are self-conscious of your chest and would like to see a dramatic change in your appearance, a breast lift with augmentation may be your ideal solution. A boob lift and enhancement surgery are great for women experiencing:
A flat chest
Droopy breasts
Drooping areolas
Small breasts
You don't need to be unhappy with your chest, a breast augmentation with a lift from the highly skilled Dr. Gentile will leave you looking and feeling great!
Incision Options
This surgical procedure has many customizable aspects. One aspect that will be personalized to your anatomical features and desired goal is the incisions.
Breast Lift Incisions:
Crescent Lift: This technique is for women who need a minimal lift. A small half-moon incision is made along the upper edge of the areola.
Periareolar: Circular Incisions are often made around the areola and along its natural border. A portion of tissue is removed and the areola is realigned and placed in a higher position.
Vertical Lift: Another common incision combination requires a pattern around the areola's natural border. The incision is then continued from the bottom edge of the areola down to the breast crease.
Inverted T Lift: Another incision is one where an incision is made along the areola, down the front of the breast and along the natural crease of the boob. This technique is often used in women who have very droopy breasts and excessive tissue.
Breast Augmentation Incisions:
Inframammary: This incision is made along the breast crease and allows larger implants to be placed strategically in the breasts.
Peri-areolar: A pattern is made around the areola and along the natural border of the areola and breast.
Trans-axillary: This procedure requires a small incision along the armpit through which Dr. Gentile can insert an endoscope that will guide the implant placement.
Any of the above-listed incisions may be used or Dr. Gentile may combine a few techniques to produce your best outcome.
Implants
A breast lift with implants will improve the shape, size, and position of your chest. At Dr. Gentile's office, he provides his patients with many implant options, such as:
Saline Implants
Saline implants are also made with a silicone shell, but they are filled with a saline solution. These implants may provide a more natural feel if you have less breast tissue.
Ideal Implants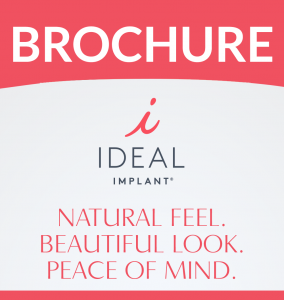 These revolutionary implants provide safe and impressive results. Ideal implants have multiple shells that encase two chambers filled with a saline solution. The multiple layers help the implants keep their structure and provide a natural feel undistinguishable from a silicone implant. The Ideal implant has less complications when compared to silicone implants. You can tell that this implant is intact by just looking in the mirror! With its impressive safety elements, this implant will give you peace of mind and beautiful results!
Gummy Bear Implants
Gummy bear implants, or cohesive gel implants, have the texture of a gummy bear and can be cut into without leaking. The cohesive gel are not used as frequently as in the past since the Ideal implants have arrived on the market.
Implants come in a few different sizes, textures, and shape options. You can get the round or anatomically-shaped implants.
Round implants are the most popular shape because they provide a well-balanced improvement.
Whereas anatomic-shaped implants are shaped like a teardrop, thick at the bottom and thinner on top. These implants are not often used in cosmetic procedures today.
Implants come in the option of smooth or textured feel. The textured ones are disappearing due to their relation with the rare anaplastic large cell lymphoma.
Implant Profile
Implants also come in different projections: low profile, moderate profile, and high profile. Low profile is for women who want minimum improvement and high profile is for maximum enhancement. Moderate profile implants are the ones most often used as they provide an optimum improvement.
Dr. Gentile will contemplate the best placement of the implant. There are two placement options when it comes to breast implant surgery: sub-glandular and sub-muscular.
Sub-glandular: In this technique, the chosen implant is placed above the pectoral muscle. This method is only used when there is enough breast tissue to lay atop the implant to cover it.

Sub-muscular: In this method, the implant is placed below the pectoral muscle. The implant will help make a breast mound for the rest of your breast tissue to rest upon. This technique is used for women who have little remaining breast tissue.
Fat Transfer
A Breast lift without implants is also possible. A breast lift can be performed alongside a fat transfer to also enhance the size of the breasts. This method is often used for women who want less enlargement.
A fat transfer often improves the breast by one cup size. If that is the enhancement you are looking for, a fat transfer breast augmentation with lift is your perfect solution!
A fat transfer is completed in two steps.
The first step includes liposuction. Dr. Gentile and you will choose an area of your body that has extra fat, such as the thighs, buttocks, abdomen, or flanks. Using a predetermined liposuction technique, Dr. Gentile will remove excess fat and sculpt the area to enhance your natural contours. Incisions will be closed and the area will be bandaged. The collected fat will be purified and placed in syringes.
In the second step of the process, the fat will be re-injected into the lifted breasts.
A fat transfer does not require an allergy test and will provide a natural volume and feel to your breasts.
Consult with Top-Ranked Breast Lift Expert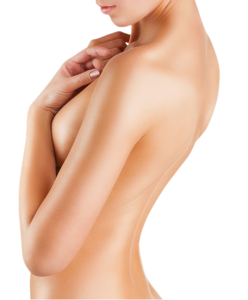 During your personal meeting with Dr. Gentile, you will be given the chance to describe your concerns with your chest and how you would like them to appear. He will listen carefully and ask about your general health, past procedures, drug allergies, and medication routine. This information will help him understand if a breast lift with augmentation will be a desired procedure for you.
Dr. Gentile will perform an examination of your breasts. He will test your skin elasticity to see if your skin will recover well from the process and help improve your results. He will take measurements and photos to help him better strategize the surgery.
Dr. Gentile will walk you through the surgery, complete with details about the procedure and the recovery period. Be sure to ask about before-and-after photos so as to have realistic expectations for what this procedure can accomplish.
Preparation
Pick up medications and any other necessities before your recovery period. This may include pain medications, antibiotics, and snacks.
Dr. Gentile will walk you through how to best prepare for the surgery and recovery period. Use these instructions to ensure a positive experience. Along with those instructions, we have provided a guideline of what else can be done to help you prepare for the breast augmentation and lift experience.
Arrange for a friend or family member to drop you off at your appointment and pick you up afterward. You will want either this same person or another friend to stay with you and help you out. They should stay overnight with you to help you get comfortable and help you get around.
Make sure you have a designated recovery spot that is free of stress where you can rest comfortably. Surround this space with extra pillows, liquids, medications, and entertainment.
Eight hours before your procedure you will need to fast from everything except water. Get a good night's rest and dress comfortably in the morning. Arrive a few minutes early to your appointment so you have time to sign in and not feel stressed.
Breast Lift with Augmentation Procedure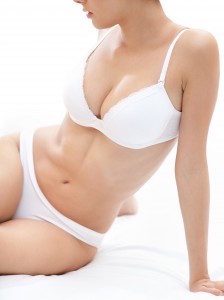 Your surgery will take two or more hours and will leave your breasts completely transformed. The surgery begins with your treatment area being marked and then prepped with antibacterial solution. The anesthesiologist will then sedate you prior to administrate general anesthesia. Your preferred implants will be strategically placed within each breast and unnecessary tissues, if any, will be trimmed. The remaining breast tissue will be lifted and dissolvable sutures will be layered deep within the breasts to help maintain the result.
Recovery after Breast Augmentation with Lift
After the surgery, your breasts may swell and be sensitive. As the anesthesia wears off, pain medication can be used to control any discomfort. Any pain should diminish within a few days after which over-the-counter medications can be used to improve recovery.
Lifting the arms above shoulder-height should be avoided for up to six weeks. You should sleep on your back for the first few weeks of recovery and only exercise very simple for up to six weeks. Patients often return to work after 3 or 4 days.
A sports bra will need to be worn for about six weeks to help your breasts adjust to their new shape.
Follow-up appointments within the first two weeks and six weeks of recovery will ensure you are recovering well. Dr. Gentile will notify you when to return to common activities at these appointments.
If at any time you have questions or concerns during your recovery, please give our office a call so we can help you.
Results, Before and After Breast Augmentation with Lift
This procedure is best to have after you have decided to not have any more children and are done with breastfeeding. You will immediately notice an improvement in the way your chest appears. The best way to keep your results looking amazing for years to come is to maintain a stable weight and remain healthy.
Cost
A breast lift and augmentation is a personalized procedure that will differ in cost between each patient. If you are interested in learning more about the procedure and how it will improve your whole appearance, schedule a consultation with Dr. Gentile today at (361) 881-9999.