Breast Lift
Conveniently located to serve the areas of Corpus Christi and South Texas
Pregnancy, nursing, gravity, weight gain and weight loss all take their toll on a women's breasts, contributing to sagging, loss of firmness, flattening and drooping. These factors contribute to the gradual transformation in the shape and feel of your breasts.
If you feel disappointed because your breasts have changed over the years resulting in shrinking and sagging, then you may be an ideal candidate for a Breast Lift (Mastopexy) with or without Breast Augmentation.
Breast Lift Surgery
Just as the name suggests, a breast lift is a cosmetic procedure that restores lift to a woman's breasts. Also known as a mastopexy, a breast lift returns a woman's breasts to their former youthful location and shape, reversing the effects of age, pregnancy, weight loss.
While it is often paired with a breast augmentation, it's important to note that these are actually separate procedures. A breast augmentation involves adding an implant to the breast to create a fullness and size, while the lift will position the breast in the patient's desired location.
Ideal Candidates
The breast lift procedure is specifically designed to correct sagging breasts that may be caused by a number of reasons, including pregnancy, weight loss, genetics, or the natural course of aging. Over time, the skin and muscles holding the breasts may lose its elasticity, which can cause the breasts to sag. If you have a general dissatisfaction with your current breast size, shape, and/or appearance, you may be an ideal candidate for a breast lift.
If you are considering a breast lift, you should be in good physical health, not currently pregnant or breastfeeding, and have realistic expectations and goals for the outcome of your surgery.
Before and After Photos
Degrees of Ptosis
The breast lift is indicated for women whose breasts have experienced excessive sagging. Breast sag, also known as ptosis, is graded at different levels to help doctors categorize the patient's needs.
Level 1: Mild sagging – In level 1 ptosis, patients will have nipple-areolas that are level with their breast crease, but will still be able to see breast tissue below the areola.
Level 2: Moderate sagging – When ptosis reaches level 2, the nipple-areolas sit below the breast crease. However, like level 1, some tissue will still be visible below them.
Level 3: Significant sagging – Once ptosis has reached level 3, the nipple-areolas will be far enough below the breast crease that you can no longer see any tissue below the areolas.
Pseudoptosis – In this other level, the areolas will be above the breast crease, but most of the breast tissue will hang below the breast crease.
Methods Used
There are three different commonly practiced methods of the breast lift surgery: the circumareolar technique, the vertical technique, and the anchor technique. The procedures takes about 2 hours and is usually done under general anesthesia. After surgery, you will wear a bra over the bandages.
The specific technique used for a breast lift may vary depending on your symptoms.

For milder cases of breast sag, breast augmentation alone can solve the problem.
Crescent/Circumareolar Technique
For moderate cases, the lift is performed via a circumareolar approach "doughnut" which consists of removal of skin around the nipple-areola, lifting and reshaping the breast tissue, and possible placement of a breast implant depending on the need.
The resultant scar is limited to a circle around the nipple-areola complex. It is well camouflaged by the coloring of the junction where the areola meets with the surrounding skin envelope. When you combine breast augmentation with a lift, the breasts are expanded and increased in volume at the same time, reducing the breast envelope with the lift. In this case, because of its complexity, the choice of breast implant type is made by Dr. Gentile.
Vertical Technique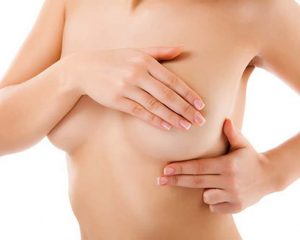 If breast sagginess is more marked, in addition to using a circumareolar incision, a vertical approach is also employed. The vertical approach results in a vertical scar extending from the new nipple location to the breast fold. This technique is called the "lollipop" method, with the areola representing the top of the lollipop while the vertical scar is the stick. This technique results in the least scarring and most natural looking breast. There is no horizontal scar and no scar is visible in a bra or low cut dress. Excess skin is removed from the lower part of the breast and around the nipple-areola. The underlying breast tissue is then lifted to a new, higher position. The enlarged and stretched areola is usually reduced in size and the skin above the nipple is now pulled downward to reshape and lift the breast.
Anchor Technique
Patients who have sustained massive weight loss or bariatric surgery present with very severe sagginess, flat breast, and redundant skin. In these cases, the anchor scar breast lift or inverted T is the preferred choice. Although this results in longer scars it better addresses the redundant skin excess and ultimately provides a better breast shape.
Consultation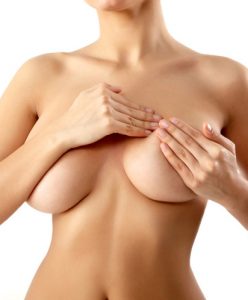 Your consultation is a personalized meeting between you and Dr. Gentile where, together, you will discuss your personal goals. When you come in for your consultation, Dr. Gentile will conduct a thorough physical examination to decide if the breast lift surgery is right for you and make surgical recommendations. Sometimes, he may find that you are better suited to a procedure like a breast augmentation, or perhaps will require one in addition to your breast lift to achieve your desired results. Dr. Gentile will keep in mind your goals for the procedure and create your personalized plan.
Dr. Gentile will ask about your medical history during your consultation to make sure you are fit for surgery. He will also be happy to answer any questions that you may have at that time. During your consultation, you will also receive a detailed quote for your surgery, as well as a plan for how to prepare for and recover from the procedure. Everyone's plan, price, and instructions will vary as each breast lift is tailored to the patient's individual needs.
Photographs
For your convenience, you may view a few selected cases in our Breast Lift Before & After photo gallery. To see our extensive photographic catalogs of pre-operative and post-operative photographs, please contact our office and schedule a complimentary consultation.
Preparation
Dr. Gentile will give you individual instructions during your consultation in preparation for your breast lift. For example, anyone set for a breast lift or any other surgical procedure will be asked to stop smoking or take certain medications, such as anti-inflammatories at least two weeks before your procedure date.
Procedure
Though the breast lift procedure will vary based on your individual circumstances and whether or not any additional procedures are being performed, the procedure takes about 2 hours and is usually done under general anesthesia. After surgery, you will wear a bra over the bandages.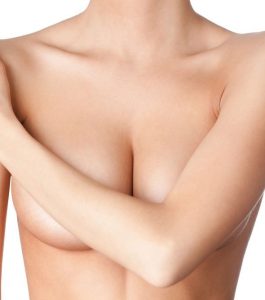 Dr. Gentile will first design your incisions. You will then be placed under anesthesia to ensure you are resting comfortably. The incisions are made around the areola and/or on the breast according to the surgical plan you discussed with Dr. Gentile during your consultation. He will remove the appropriate amount of skin and tissue to achieve your desired results, and even potentially reduce the size of your areolas to make them more proportionate to your new breasts. After he has achieved the desired lift, Dr. Gentile will close the incisions with self-absorbable sutures and then you are taken to the recovery room.
Ancillary Procedures
Additional procedures may be performed in conjunction with your breast lift surgery, including a breast augmentation, tummy tuck, and/or liposuction.
Breast Augmentation
A breast augmentation is commonly performed in tandem with a breast lift to give you a more shapely breast by inserting either saline or structured (Ideal) implant. Having a breast augmentation done in addition to a breast lift will give you both a lifted and fuller breast appearance.
Tummy Tuck
A tummy tuck can offer additional body contouring to your breast lift. This procedure helps to slim your midsection by removing your excess skin and tightening your muscle.
Liposuction
Another popular choice to pair with a breast lift is liposuction. Liposuction is a minimally-invasive technique that will remove fat that is unresponsive to diets and workouts. This helps further improve the shape of your body post-surgery.
Recovery
Your breasts may be bruised and swollen for a few days and weeks after the procedure. Pain and discomfort can be controlled with prescription medication. You will need to wear a soft bra with no under-wire that opens in the front for the next 6 weeks. No stitches need to be removed as all are Self-absorbable.
Healing is a gradual process and although you may be up and about in a day or two, you should take it very easy and avoid any heavy activity for the first few days and especially avoid lifting anything over your head for 4 weeks. You will be given detailed instructions for resuming your normal activities, and you can return to work in 3 – 4 days.
During this time, you should not sleep or lay on your stomach, rather lay on your back with your head and back elevated. You will have a follow-up visit with Dr. Gentile to assess your recovery and adjust your plan as needed.
Dr. Herve Gentile will make every effort to make your scars as inconspicuous as possible but nevertheless, they are permanent. Although scars tend to fade with time, the circumareolar scar is very well camouflaged since it is located at the skin and areola junction while the vertical scar if required is usually placed so that it is hidden even when you wear low-cut tops. The anchor or inverted T scars are designed to be in the inframammary fold.
Results
Improvement is immediately visible after the procedure, but you will see the final results of your breast lift as soon as the swelling and bruising subsides. The minimal scarring from the surgery will fade away over time and is well-hidden by clothing and even bathing suits.
Pricing
Your total cost for the breast lift is $5,600 or $6,200 in case the anchor procedure is needed. Also, if done concomitantly with a tummy tuck your cost is much lower. The quote we provide you is all inclusive when the procedure is performed in our accredited office surgical center. Any lab workup is excluded.