Breast Asymmetry
Conveniently located to serve the areas of Corpus Christi and South Texas
Do you notice an imbalance when you look in the mirror? Asymmetrical breasts are very common, but that doesn't mean you have to live with them! Symmetry is a fundamental principle of aesthetics and an essential ingredient to all artistic masterpieces.
It is a simple fact of human nature that balance is beautiful. Asymmetry may manifest in size, with one breast being slightly smaller than the other. There may also be asymmetry in their orientation, where the breasts appear to be on crosswise or divergent paths. Or maybe the left one just is a little saggier than the right one? Again, this is all quite common and all very treatable. The Hervé F. Gentile Cosmetic Surgery and Laser Center in Corpus Christi, TX, has a number of procedures to address your individual needs and help you achieve your unique aesthetic goals.
Dr. Hervé Gentile is an expert plastic surgeon with training and experience that spans the globe. He began his medical school studies at the University of Padua Medical School in Italy. It is the second oldest medical school in the world and the place where the foundations of modern plastic surgery were first laid. Dr. Gentile continued his medical education at home and abroad, eventually becoming one of the first-ever triple board-certified plastic surgeons. He is certified by the American Board of Plastic Surgery (ABPS), the American Board of Facial Plastic and Reconstructive Surgery and the American Board of Otolaryngology (Head and Neck Surgery). Dr. Gentile is clearly a credentialed practitioner of the medical arts. He's here to bring balance to your life!
If you are in South Texas, in the Valley or Corpus Christi, contact Dr. Hervé F. Gentile, MD, FACS, to learn more about our surgical and noninvasive procedures for addressing your aesthetic needs.
About
Asymmetry may appear subtle at a distance, but even several centimeters of difference can register unconsciously and have a negative aesthetic impact. When Dr. Gentile was completing his Fellowship in Cosmetic and Facial Plastic Surgery in Rome, he saw a precise attention to detail in the great works of art that set the standards of beauty for centuries. Humans are simply drawn to symmetry and find it beautiful.
You can explore the results of many more patient-centered procedures by checking out our blog.
Asymmetrical breasts may be the result of a number of physical peculiarities often working in concert to produce an imbalanced look. Asymmetry can be caused by aging and genetics. It may also be the outcome of external pressures on the body, like pregnancy or previous cosmetic procedures. The results are as varied as the causes, because "asymmetry" may describe any deviations in size, shape and orientation. But Dr. Gentile's patient-centered practice is results-driven. We prefer to discuss solutions and how those solutions can help you achieve your goals.
Possible solutions for breast asymmetry are discussed in detail below.
Solutions for Breast Asymmetry
Breast reduction
Breast lift
Breast augmentation
Breast augmentation with lift
IDEAL IMPLANTS
Breast fat transfer
Revision breast augmentation
Breast implant removal
Breast Reduction
Many women complain about asymmetries in size when they talk about their breasts. This is a prevalent problem with a simple solution. The most direct approach to size asymmetry is to reduce the larger breast and bring it into balance with the smaller one. Reduction mammoplasty, or Breast Reduction surgery, may be the answer.
Dr. Gentile works exclusively in the superior pedicle reduction technique. In this version of the procedure, the nipple's connective tissue, blood vessels and nerve endings remain intact. The doctor works skillfully to reduce the hanging skin and fatty tissue on the bottom half of the breast. The result is a perky looking bosom with an upward orientation.
Depending on your individual anatomy, there are a couple of different incision patterns Dr. Gentile may utilize in your breast reduction.[1]
Vertical Incision Pattern (Lollipop):
Often referred to as the "lollipop" because of the distinctive pattern that is traced on the breast, the vertical incision pattern is one of the most popular. The lollipop incision is the one most commonly used by Dr. Gentile. The incision runs vertically, from the lower breast, to encircle the nipple in a lollipop shape. The incision pattern is preferred for its lack of transverse scars beneath the breast.
Anchor Incision Pattern:
The shape of this incision pattern is also suggestive of its namesake. The anchor incision encircles the nipple like the lollipop, but the pattern includes larger horizontal incisions at the lower breast that trace a silhouette roughly resembling an anchor. The anchor is a more comprehensive approach to breast reduction. Dr. Gentile prefers this approach to correct more extreme cases of sagginess like those experienced after extreme weight loss.
Breast Lift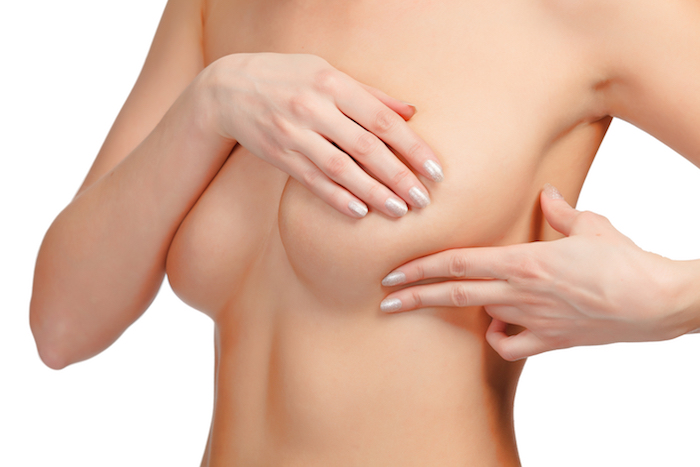 Second to size, breast orientation is another typical cause of asymmetry. Sagging breasts are a condition referred to as ptosis in medical nomenclature. Genetics plays a role, but ptosis may also be the result of external experiences, such as pregnancy, aging and dramatic weight loss. A simple Breast Lift procedure (mastopexy) is your solution to ptosis.
Ptosis is graded as mild, moderate or significant, based on the degree to which the nipple-areola complex lies in relation to the breast crease. Your ptosis severity will inform Dr. Gentile's approach, detailed below.
Crescent Technique:
The crescent technique is ideal for those seeking only a small symmetrical adjustment. It begins with a half-moon incision above the nipple. Dr. Gentile removes a small patch of skin so that the nipple may be positioned upward to sit higher on the breast.
Vertical Technique:
The lollipop returns in this complementary procedure to breast reduction. The vertical technique is very similar as it is applied to the breast lift. The minimally invasive incision is intended to remove excess skin and raise the nipple on the breast, all while reducing the risk of scarring.
Anchor Technique:
The aptly named anchor technique is intended for sagging breasts that have succumbed to the downward forces of gravity. It also presents further opportunities to combine the breast lift and breast reduction procedures to achieve more comprehensive aesthetic results. The anchor technique works best for patients with excessive loose skin such as the kind left behind after bariatric surgery.
Breast Augmentation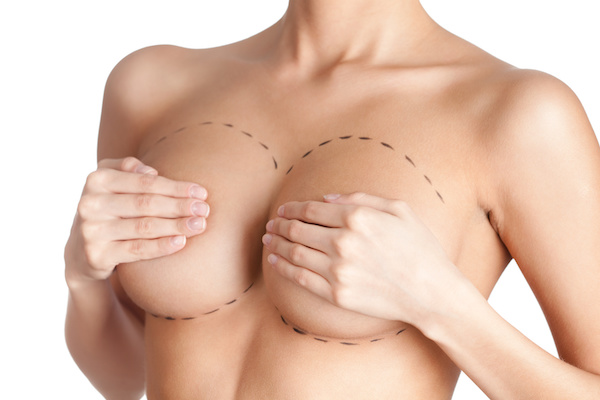 Maybe you'd like to go bigger? Increasing the size of the smaller asymmetrical breast is a way to enhance what you already have while achieving beautiful balance. Breast Augmentation remains one of the most popular procedures in plastic surgery; there is a breathtaking variety of techniques, prosthetics and approaches. We'll address complementary procedures, implant selection and fat grafting below.
Breast Augmentation with Lift
Aesthetic balance is best achieved holistically. This is why it often becomes difficult to discuss the benefits of a single procedure without also inviting discussion of another. Because asymmetry often exists on multiple vectors, Breast Augmentation with Lift is the best way to address issues of divergent size and competing orientation. The procedure combines augmentation and breast lift techniques to accomplish comprehensive improvements in size, shape, profile and position.
IDEAL IMPLANTS:
Breast augmentation is most frequently accomplished through the use of implants. The implants are inserted above or below the chest muscles to enhance the size and shape of the breast. The traditional choice for those seeking breast augmentation has been between more natural-feeling silicone implants and saline implants, which are safer in the possible event of a rupture. IDEAL IMPLANTS offer a third choice. IDEAL IMPLANTS are saline-filled, but with supporting structures of inner shells that give the prosthetic a real look and feel without the risks of silicone or the "water balloon" appearance frequently seen in conventional saline implants.
Breast Fat Transfer:
Some people forego the implant issue altogether and choose Breast Fat Transfer as their enhancement option. The beauty of this procedure is that it uses your body's own fat to achieve its effects. Yes, you can remove unwanted fat from places like your belly or love handles—and then add it to your bustline! Achieve aesthetic harmony by contouring your whole body. The effects are not as dramatic as implants.
Breast fat transfer is best suited for those seeking subtle, natural balance.[2]
Revision Breast Augmentation
Sometimes breast asymmetry may occur as a result of complications due to a previous augmentation procedure. Also, breast implants often need to be replaced every 10 to 15 years. Asymmetry may occur as your prosthetics have weathered the seasons and their refresh date draws near. In these cases, Revision Breast Augmentation becomes necessary.
Dr. Gentile's long and distinguished career in plastic surgery has shown him that no single procedure is a "quick fix."
Rather, each procedure is part of a holistic aesthetic journey that changes and grows with the patient. So, whether asymmetry is the result of a sudden issue, like a rupture, or simply a consequence of the wear and tear of time, revision breast augmentation is intended to bring your chest back into harmony.
Breast Implant Removal
There are many reasons why women choose to undergo Breast Implant Removal. Asymmetry is one of them. Dr. Gentile is adept at safely removing breast implants while restoring the aesthetic contours of the chest. Always guided by the values of safety and symmetry, Dr. Gentile may choose to do a complete capsulectomy of the implant to minimize any risk of contamination. A breast lift is a common complementary procedure to breast implant removal.
Bring Balance to Your Life
There can be no beauty without symmetry. It was a principal first discovered by the artisans of ancient Greece. It is now a guiding philosophy of Dr. Hervé F. Gentile, MD, FACS, in Corpus Cristi, Texas. If you're in South Texas and have considered plastic surgery to address your breast asymmetry, inquire at the office to learn more.
References
Breast reduction surgery. (2019, April 4). Retrieved December 2, 2019, from https://www.mayoclinic.org/tests-procedures/breast-reduction-surgery/about/pac-20385246.
Simonacci, F. P., Bertozzi, N. P., Grieco, M. P., Grignaffini, E. P., & Raposio, E. P. (2017). Procedure, applications, and outcomes of autologous fat grafting. Annals of Medicine and Surgery, 20, 49–60.