Buttock Augmentation
Conveniently located to serve the areas of Corpus Christi and South Texas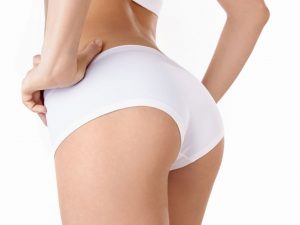 Until recently, the only way to create the illusion of a full gluteus, an essential feature of classical beauty, was through liposuction or, for some, a buttock lift.
Today, just like with breast augmentation we can enhance your breast, with buttock augmentation we can add an implant that truly reshapes and enhances your buttocks. Today's buttock implants are similar to gummy bears and are of the same quality as your gluteal muscles. These implants do not have many of the complications of breast implants and do not deflate or pop like a bag of water.

About
Latino, Spanish and African cultures idealize fuller buttocks in females and there is no question that a rounded and fuller gluteal shape provides a powerful erotic message.
Regardless of ethnic background, today, as in the classical Greco-roman times a round buttock is perceived as youthful and desirable.
This is further ingrained when we look at popular magazines by our idealization of beautiful women as having perfectly smooth thighs and lifted rounded buttocks. There are two procedures available to augment your buttocks: the "Brazilian Butt Lift," consisting of fat injections obtained from other areas of your body and Buttock Implants, which is the procedure of choice in thin people. Buttock implants are contraindicated in patients with a lot of sagginess in their lower buttocks since it could exacerbate this sagging (these patients are better treated with a buttock lift ). Fillers or other injectables have no place in buttock augmentation.
The good news is you aren't stuck with the behind you were born with.
There are several ways you can achieve fuller buttocks, including a buttock augmentation. For many, targeted workouts can make some minor improvements to the shapeliness of the buttocks, but won't achieve the full desired results.
For women who are unhappy with the look of their buttocks, whether a lifelong issue or frustrating development after a pregnancy or due to aging, buttock augmentation can help boost your confidence by giving you the more firm, round butt that you desire. The buttock augmentation procedure reshapes and enhances the buttocks area for a fuller, curvier figure.
Benefits
Just as the voluptuous backside has become more widely considered to be an attractive feature, the popularity of the buttock augmentation surgery has skyrocketed. Those born with flat behinds who wish for a fuller figure and more rounded buttock area may find the buttock augmentation to be a good option.
A buttock augmentation is a procedure in which a silicone implant is inserted through a tiny incision between the buttocks and it is used to reshape your buttocks. Sometimes an additional procedure is performed in which your body's own natural fat is taken from another part of your body and placed into the buttock area to further refine and improve your profile.
A person's individual buttock augmentation procedure will depend on what their desired outcome will be. In some cases, liposuction will be used to remove unwanted fat above the sacral area.
With so many options to choose from, it's important to schedule a consultation with a board-certified plastic surgeon like Dr. Gentile. Having a doctor you can trust helps give you the confidence that you will get the results you are looking for.
Candidates
The buttock augmentation is an appropriate treatment for a wide variety of patients. You should be in good overall health, close to your ideal body weight and interested in achieving a fuller, larger backside. You should also have realistic expectations for the outcome of the surgery. If your body has an extremely low body mass index, you may lack the extra fat deposits necessary for a fat transfer buttock augmentation and only be a candidate for buttock implants. Dr. Gentile will be able to make this assessment during your consultation.
Consultation
During the consultation with Dr. Herve Gentile, you will have, in addition to a review of your medical history, a personal evaluation of what is appropriate for you, your body size and frame as there are different size implants. Sometimes liposuction with or without fat transplantation is also used to enhance even further the result and is usually performed at a later stage. Liposuction is especially useful above the buttocks to increase the angle of takeoff from the lower back and therefore make it more abrupt and, also, below the buttocks at the banana fold to increase the definition and roundness of your buttock at the fold. Sometimes it is very useful to perform the so-called " BRAZILIAN BUTT LIFT." This procedure consists of injecting fat in layered tunnels via tiny incisions. Repeat grafting is frequently necessary because of a high absorption rate and it can only be performed in patients who have abundant fat and are scheduled for liposuction. In most cases, the "Brazilian Butt Lift" greatly enhances and complements the Buttock Augmentation with implants but by itself offers modest improvement as it cannot provide the round projection that most patients desire. This is especially true if the patient is thin and has no body fat.
FAQs
Dr. Herve Gentile is a Corpus Christi Plastic Surgeon who specializes in Cosmetic Facial and Body Contouring.  He has helped thousands of men and women in the South Texas area and beyond reach their full aesthetic potential.  If you are considering adding a little beauty to your booty, Buttock Augmentation can add the lift, curve, and volume required to deliver the round, flattering derriere you seek.
Have questions about Buttock Augmentation?  Dr. Herve Gentile will be happy to answer every question you have! 
Below is a list of questions Dr. Herve Gentile often receives from his buttock augmentation patients: 
How can I make my butt bigger? 
The two most popular, effective methods of buttock augmentation include natural fat transfer,  also known as Brazilian Butt Lift or BBL, and augmentation with implants.  In some cases, you will see your best results from a combination of implant with fat transfer to add final touches to the buttock contours.  A skilled, experienced plastic surgeon like Dr. Gentile can assess your unique body contours to determine which type of butt lifting procedure is right for you. 
What can a buttock augmentation do? 
A buttocks augmentation can:

• Transform a flat or sagging buttocks into a round, lifted one
• Improve the projection and profile of the buttocks
• Achieve the specific outcome you want 
• Correct asymmetry and divots
• Smooth the texture of your buttocks
• Add to your hourglass figure
• Make you look sexier and/or more athletic 
• Improve the way clothes and swimwear look
• Increase your confidence 
• Make a meaningful, long-lasting improvement to your appearance 
How is buttock augmentation done?
Buttocks augmentation removes fat from elsewhere on the body and adds it strategically to the buttocks or involves the surgical placement of silicone implants to enhance the size and shape of the buttocks.You will be kept comfortable during your surgery with local or general anesthesia, per your preference.² Dr. Gentile will work alongside you to determine your best treatment options in your personal consultation.  His goal is to help you find a method that will deliver your ideal results and complement your natural assets. 

Dr. Gentile performs these surgeries with diligence and an artist's hand.  He seeks to help minimize your downtime and achieve a lasting, satisfying transformation. 
What is fat transfer?
Fat transfer is a minimally-invasive cosmetic surgery which removes fat from one area of the body and uses it to shape and volumize another part of your figure.  Only tiny incisions are required, because the tools and techniques used to eliminate and re-inject your fat are slim and precise.  Your fat is first gathered for transfer using Liposuction, a highly customized fat elimination surgery.  When Dr. Gentile performs liposuction to collect your fat for transfer, he will smooth and improve that area of your body.  Liposuction is especially useful above the buttocks to increase the angle of takeoff from the lower back and below the buttocks at the banana fold to increase the definition and roundness of your buttock.  The fat for a BBL is often gathered from the lower back, thighs, or abdomen.  Once your fat is purified, it is re-injected throughout your buttock to improve its curve and projection. This procedure consists of injecting fat in layered tunnels via tiny incisions. Repeat grafting may be necessary.

An added benefit of fat transfer with Dr. Gentile? His skill produces smoother results and recovery.   Fat transfer is also a safe, beautiful way of adding volume to the face, breast, and hands.

How long does fat transfer to the buttocks last?
The results of fat grafting to the buttocks are long-lasting.  Avoiding weight fluctuations and maintaining a healthy lifestyle are two important parts of caring for your results. You will see the outcomes of your Brazilian Butt Lift emerge within six months to a year of your treatment. 
Is Brazilian Butt Lift safe? 
When performed by a triple-board plastic surgeon like Dr. Herve Gentile, buttock augmentation surgery is safe.¹ Communication is an important aspect of your treatment plan.  If you have questions or concerns prior to your appointment, Dr. Gentile is here to put your mind at ease.
How long do butt implants last?
Butt implants last for up to ten years or more.
What do buttock implants feel like?
Silicone buttock implants have a soft but firm consistency: their texture is comparable to natural gluteal muscle.  They feel similar to gummy bear implants.  They do not deflate or "pop."
Where do butt implants go?
Your buttock implants will go in a specially-designed "pocket" of space that sits beneath your gluteal muscles. In order to place your implants Dr. Gentile, will make a single incision horizontally along the sacral bone, between the two buttocks. Scarring of this incision is usually faint and easily concealed within swimwear and clothing.  
What size buttock implant should I choose?
Dr. Gentile offers a range of different sizes to his buttocks implant patients.  You will have the opportunity to customize your implant's projection, diameter, and volume.  During the consultation with Dr. Herve Gentile, you will have, in additionto a review of your medical history, a personal evaluation of what is appropriate for you, your body size and frame. 
Brazilian Butt Lift or Augmentation with Implants: Which is Better?
It depends on your personal goals and the current state of your physique. In most cases, the "Brazilian Butt Lift" greatly enhances the buttocks with long-lasting lift and shape.A BBL by itself can offer modest to dramatic improvement or be combined with a Buttock Implant for your ideal outcome. Some patients will achieve their preferred results with an implant alone.
How common are buttock implants?
Buttock implants are not as commonly sought out for augmentation as fat grafting and a butt lift. However, implants will provide long-lasting improvement to individuals who are looking for a perkier, symmetrical butt. Dr. Gentile and you will determine your best butt augmentation option in your meeting.
Is buttock augmentation right for me?
Buttock augmentation may be the right option for you if you are unhappy with the size and/or shape of your buttocks. Buttock augmentation is an appropriate option for men and women who feel their buttocks is flat, uneven, small, or simply does not match the rest of their body. If you are a healthy individual who is at a stable weight and have not been able to accomplish the results you want at the gym, buttock augmentation may be the perfect option for you! If you have lost weight, or experienced changes in your booty during pregnancy, or are seeing a change in your buttocks as you age, buttock augmentation may be the perfect way to get the oomph back in your backside! 

Dr. Gentile will be happy to meet with you for an informative consultation. He takes time with each patient to give them thorough information regarding butt lift and the results it can achieve; comfort, safety, and transparency are very important to him. He will customize your surgical plan based on your personal preferences and the unique aspects of your physique. For example, he may recommend that patients with very low body mass consider a buttock implant. If you are experiencing significant buttock sagging, Dr. Gentile may recommend a buttock implant or a buttock lift. 

Brazilian Butt Lift with fat transfer can be performed in patients who have adequate fat. 
What is recovery like after a butt lift? 
You will receive personalized recovery instructions well in advance of your procedure date. This will help you prepare for the smoothest, quickest recovery from your buttock augmentation. Plan to take one to two weeks off work following your buttock augmentation. You will have Dr. Gentile's care and attention long after your surgery date. It is normal to experience discomfort, bruising and swelling following your buttock augmentation, but you will receive medication and advice to help you treat these side effects. Follow-up appointments will also be an integral part of your recovery. Your booty will look smoother and rounder within a few weeks as post-procedure swelling subsides. Results will continue to improve for six to eight months. After treatment, your bum will be curvier and improve your natural contours. 
Can I sit after buttocks augmentation? 
You can sit after buttocks augmentation, but try to keep sitting to a minimum for the first few days after your butt lift. If you must sit, sit on a cushion or pillow. Do not sit for too long in any one position. Dr. Gentile recommends that you rest on your stomach or side for the first three weeks of your recovery. Intermittent walking is encouraged throughout your recovery. 
How much does it cost for a buttock augmentation?
The cost of your buttock augmentation will be particular to your body and desired outcome. Dr. Gentile will go over a cost breakdown in your personal consultation. This breakdown will reflect surgical costs, including the type of surgical method, anesthesia, and postprocedure garment you have chosen.
References
Senderoff, Douglas M. (April 11, 2016). Aesthetic Surgery of the Buttocks Using Implants: Practice-Based Recommendations. Aesthetic Surgery Journal. Volume 36. 559–576.
Chia, Christopher T., Dayan, Erez, Del Vecchio, Daniel, Tabbal, Georges, Theodorou, Spero J. (December 2018). "Brazilian Butt Lift" Under Local Anesthesia: A Novel Technique Addressing Safety Concerns. Plastic and Reconstructive Surgery. 1468-1475.