Buttock Augmentation
Conveniently located to serve the areas of Corpus Christi and South Texas
Until recently the only way to create the illusion of a full gluteus, an essential feature of classical beauty, was through liposuction or, for some, a buttock lift. Today, just like with breast augmentation we can enhance your breast, with buttock augmentation we can add a procedure that truly reshapes and enhances your buttocks. Today's buttock implants are similar to gummy bears and are of the same quality as your gluteal muscles. These implants do not have many of the breast complications and they do not deflate or pop like a bag of water.
About Buttock augmentation
Latino, Spanish and African cultures idealize fuller buttocks in females and there is no question that a rounded and fuller gluteal shape provides a powerful erotic message.
Regardless of ethnic background, today, as in the classical Greco-roman times around buttock is perceived as youthful and desirable.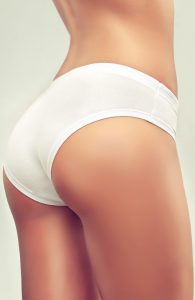 This is further ingrained when we look at popular magazines by our idealization of beautiful women as having perfectly smooth thighs and small rounded buttocks. There are two procedures available to augment your buttocks: the "Brazilian Butt Lift", consisting of fat injections obtained from other areas of your body and Buttock Implants, which is the procedure of choice in thin people. Buttock implants are contraindicated in patients with a lot of sagginess in their lower buttocks since it would worsen their results ( these patients are better treated with a buttock lift ). Fillers or other injectables have no place in buttock augmentation.
The good news is you aren't stuck with the behind you were born with. There are several ways you can achieve fuller buttocks, including a buttock augmentation. For many, targeted workouts can make some minor improvements to the shapeliness of the buttocks, but won't achieve the full desired results.
For women who are unhappy with the look of their buttocks, whether a lifelong issue or growing unhappiness after a pregnancy or due to aging, the buttock augmentation can help boost your confidence by giving you the more firm, round butt that you desire. The buttock augmentation procedure reshapes and enhances the buttocks area or fuller, curvier figure.
Benefits of Buttock Augmentation
Just as the voluptuous backside has become more widely considered to be an attractive feature, the popularity of the buttock augmentation surgery has skyrocketed. Those born with flat behinds who wish for a fuller figure and more rounded buttock area may find the buttock augmentation to be a good option.
A buttock augmentation is a procedure in which a silicone implant is inserted through a tiny incision between the buttocks and it is used to reshape your buttocks. Sometimes an additional procedure is performed in which your body's own natural fat is taken from another part of your body and placed into the buttock area to further refine and improve your profile.
A person's individual buttock augmentation procedure will depend on what their desired outcome will be. In some cases, liposuction will be used to remove unwanted fat above the sacral area.
With so many options to choose from, it's important to schedule a consultation with a board-certified plastic surgeon like Dr. Gentile. Having a doctor you can trust helps give you the confidence that you will get the results you are looking for.
Candidates For Buttock Augmentation
The buttock augmentation is an appropriate treatment for a wide variety of patients. You should be in good overall health, close to your ideal body weight and interested in achieving a fuller, larger backside. You should also have realistic expectations for the outcome of the surgery. If your body has an extremely low body mass index, you may lack the extra fat deposits necessary for a fat transfer buttock augmentation and only be a candidate for buttock implants. Dr. Gentile will be able to make this assessment during your consultation.
Consultation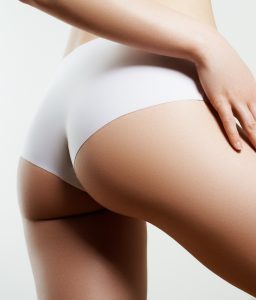 During the consultation with Dr. Herve Gentile, you will have, in addition to a review of your medical history, a personal evaluation of what is appropriate for you, your body size and frame as there are different size implants.Sometimes liposuction with or without fat transplantation is also used to enhance even further the result and is usually performed at a later stage. Liposuction is especially useful above the buttocks to increase the angle of takeoff from the lower back and therefore make it more abrupt and, also, below the buttocks at the banana fold to increase the definition and roundness of your buttock at the fold. Sometimes it is very useful to perform the so-called " BRAZILIAN BUTT LIFT". This procedure consists of injecting fat in layered tunnels via tiny incisions. Repeat grafting is frequently necessary because of a high absorption rate and it can only be performed in patients who have abundant fat and are scheduled for liposuction. In most cases, the "Brazilian Butt Lift" greatly enhances and complements the Buttock Augmentation with implants but by itself offers modest improvement as it cannot provide the round projection that most patients desire. This especially true if the patient is thin and has no body fat.
How is Buttock Augmentation Performed?
There are two major types of buttock augmentation, buttock augmentation with implants or the fat transfer technique. The technique selected will be determined during your consultation based on your body and goals.
Buttock Augmentation with Implants
Buttock Augmentation with Implants is performed under general anesthesia with a single incision placed in the midline of your sacral bone between the buttocks ( it starts at your funny bone and then continues upward for 2 ½ inches) completely concealing your scar within your underwear or bathing suit. Despite the fact that this area tends to heal very slowly, over time, the scar results fade away and are barely noticeable. The implants, which are made out of soft but solid silicone (in contrast to breast implants which are filled with saline or silicone gel) are then placed through this hidden incision, one on each side of the buttocks, in a special custom designed pocket underneath your gluteal muscles.
Fat Transfer Augmentation – The Brazilian Butt Lift
If fat grafting is chosen for your procedure, Dr. Gentile will make small incisions to the area of your body where the donor fat will be harvested. The area chosen for the "donor" fat will depend on your body but is typically the lower back, hips, thighs, or stomach. This fat is then removed and prepared. The purified fat tissue is transferred in a series of injections to the fat layer around your buttocks to increase the size of your curvature. The surgery is minimally invasive, leaves behind tiny scars in a covered-up area, and will produce results immediately.
Alternative to Buttock Augmentation
Buttock Lift
While a buttock augmentation is the most complete option if your goal is to attain a larger, shapelier backside, it is not always the best option for everyone. For those who have excess, sagging skin around the lower back and buttocks, but are not especially interested in an increase in size, there is the traditional buttock lift.
The buttock lift is a surgical procedure that removes excess skin from the buttocks to create a natural shape and pleasing figure. You may have developed sagging skin in this area due to losing a significant amount of weight or through the natural process of aging. Unlike a buttock augmentation, the butt lift does not add volume to the buttocks, but mainly intends on creating a firmer, lifted behind and natural contour of the buttocks.
What to Expect Following a Buttock Augmentation
After the procedure, you are taken to the recovery room and monitored until you are ready to be discharged. Usually, medication can control any pain and discomfort, and swelling and any bruising will disappear gradually. Although you will be up and about a day or two after surgery, the most important thing to avoid is sitting at least for the first few days. You will be seen in the office at 7 days and 2 weeks after surgery and less frequently thereafter depending on your progress. At this time your newly acquired figure should be able to better fill out your clothes but remember that although buttock augmentation can improve your look and make you feel good, it is not a guarantee for happiness. If liposuction and/or a "Brazilian Butt Lift" is contemplated this is performed preferably 6 – 8 months following the Buttock Augmentation.
Dr. Gentile and his staff will provide you with a personalized recovery plan with specific steps and instructions for self-care. The final results of the procedure will become more and more obvious over the following weeks as healing completes and swelling subsides.
Cost
Prices of a buttock augmentation will vary based on your individual goals and circumstances, particularly if any additional procedures are required to achieve your desired results. Every treatment is tailored to each patient and their unique case. Dr. Gentile will give you a quote for your procedure during your consultation.