Restylane
Conveniently located to serve the areas of Corpus Christi and South Texas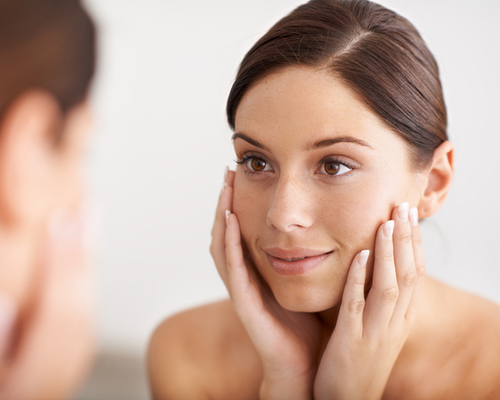 Restylane is a popular dermal filler that can add volume and firmness to the face and hands.
This injectable gel uses hyaluronic acid as a key ingredient to plump and revitalize. Restylane comes in five different formulations to best address different areas of the face and body and different effects of aging. If you've become unhappy with deep lines and creases, gaunt-looking areas, and thin, lined lips, there's a Restylane product for you! Restylane can also be used in hand rejuvenation procedures to provide plump volume and fill in the gaps between bones and tendons that age the appearance of the backs of our hands. But like any cosmetic injection, the results are only as good as the product used and the skill of the injector. Dr. Herve Gentile is committed to making women and men the best version of themselves – without that "done" look. For stunning results, visit A Better You Cosmetic Surgery and Laser Center in Corpus Christi, Texas. Dr. Herve Gentile's practice is just a block from the beach, and he and his team can't wait to meet you.
To schedule your consultation appointment, call (361) 881-9999. 
All About Restylane
Restylane and other dermal fillers like it are beloved by patients for their consistent wrinkle-removing results.
Restylane offers a natural-looking, rejuvenated appearance, and part of that has to do with the naturally occurring ingredient that is the secret to Restylane's success: hyaluronic acid. Hyaluronic acid (HA) fillers are the gold standard for non-surgical facial rejuvenation! They offer a discreet and subtle way to improve aesthetics without hindering natural facial movements and produce no obvious evidence of filler. (1)
In humans, most of our naturally occurring HA is found in the skin. It's also found in the umbilical cord in babies and the fluid in our joints. It is also present in all tissues and fluids of the body, such as skeletal tissues, heart valves, the lung. (2)
So What Does Hyaluronic Acid Do?
HA does a lot! It allows for tissue hydration, the lubrication of joints, fills in the space between cells. When we're injured, our body produces HA to regulate several aspects of tissue repair. But in the case of cosmetic applications, it's all about how the HA bosses around fibroblasts!
Fibroblasts secrete collagen proteins, and collagen is crucial. It's what keeps your skin firm. (3) Unfortunately, naturally occurring hyaluronic acid has a high turnover rate, and we produce less of it as we age. That's where science comes to the rescue! The hyaluronic acid in Restylane is processed and formulated to resist being re-absorbed as quickly by the body, so you'll have results that last for months. You'll also have consistent collagen production.
Benefits
Hyaluronic Acid is the gift that keeps on giving! Besides instant plumping and long-lasting results, this substance kickstarts collagen production so that your skin starts to repair itself and slams the brakes on those dreaded signs of aging.
Restylane is commonly used to improve the appearance of: 
Nasolabial Folds (the creases that stretch from the sides of your nose to the corners of your mouth)
Thin lips that lack volume and definition
Vertical lines that stretch upwards from lips (sometimes called smokers line)
Hollow cheeks
Aging hands with visible bones, tendons, and veins
Restylane injections are administered using an extremely tiny needle, so discomfort is minimal, although either an anesthetic block or a topical anesthetic can be applied to the treatment area. But, it will be over before you know it: Restylane injections are fast! Many patients choose to pop into the office on their lunch breaks because it's so convenient, and there's no downtime or recovery needed.
Which Restylane is Right For You?
Restylane comes in a variety of different formulations that each possess specific properties to treat certain areas best.
Depending on the kind of wrinkle or the area that needs volume, there's a gel that has just the right firmness and viscosity to create smooth, volumized results. The depth of where the Restylane gel needs to be placed is also a consideration when selecting the appropriate formula of Restylane. 
Restylane is for mid-to-deep injection into the facial tissue for the correction of moderate to severe facial wrinkles and folds, such as nasolabial folds. It can also be injected into the lips. It also comes in a version with lidocaine for a more comfortable injection.
Restylane Lyft with lidocaine goes deeper! This formula is for severe facial wrinkles and folds. It's also used for cheek augmentation and can restore contour deficiencies in the face. When injected into the backs of the hands, it corrects volume loss.
Restylane Silk is for lip augmentation and for the correction of perioral wrinkles, or the wrinkles around the mouth.
Restylane Kysse is for lip augmentation and is specially formulated to be softer and treat the wrinkles above the upper lip.
Restylane Refyne is for the correction of moderate to severe facial wrinkles and folds, such as nasolabial folds. This gel is especially soft and flexible to preserve natural facial expression while effectively combating lines and wrinkles.
Restylane Defyne is another ultra-flexible gel injectable but is firmer than Refyne, making it more durable and better suited to deep lines and wrinkles. Restylane® Defyne also has another exciting application: it can be injected into the chin to create a more defined jawline and balance the proportions of the face for a firmer, more youthful profile. (4)
Candidates in Corpus Christi
Restylane products are FDA-approved, widely used, and have an extremely low rate of side effects. However, although they have been extensively researched and tested, safety has not been established for use in people who are:
Pregnant or breastfeeding
Trying to become pregnant
Under 18 years or over 65 years
Highly allergic
Prone to bleeding disorders
If you have a history of cold sores or herpes, tell Dr. Gentile. Dermal filler injections may trigger an outbreak. Many patients choose to complete a cycle of their anti-viral before getting injections.
To find out if Restylane is right for you, contact A Better You and schedule a personal consultation.
Personal Consultation
During your consultation with Dr. Gentile at his beachside office, you'll have the chance to discuss your aesthetic goals and learn more about A Better You. Dr. Gentile will review your medical history, examine the areas that are troubling you, and be able to recommend the perfect treatment for your needs. If you're a good candidate, you may be able to get your Restylane injections the same day! To learn more about the services Dr. Gentile offers and what's new in the world of cosmetic procedures, follow his blog.
Procedure
Restylane injections are a safe and simple procedure. After your injection site is cleansed and prepped, your Restylane is injected through an ultrafine needle at the correct location and depths to ensure precise placement and voluptuous volume. After a quick series of injections, you'll be able to be on your way and continue your day.
Results
Although you'll notice immediate results, it does take about a week for the gel to settle in place and any swelling to be eliminated.  The longevity of your results will depend on the area that you've treated and the kind of Restylane formula used. 
Restylane: reduced nasolabial folds for up to 18 months
Restylane Lyft: 10 months up to 12 months in the cheeks, up to 6 months in the back of the hands, and up to 6 months in facial wrinkles and folds, such as nasolabial folds 
Restylane Kysse:3-9 months for lips and wrinkles around the mouth.
Restylane Refyne and Restylane Defyne:11 and up to 12 months in the facial wrinkles and folds such as nasolabial folds and marionette lines. (4)
Cost
The amount of Restylane cosmetic that is injected varies from patient to patient. Your procedure will be designed with consideration to your age, aesthetic intentions, and the type of Restylane product used. As a result, the cost of your injections will be unique to you. Dr. Gentile will be able to give you an accurate estimate of the price for your injections during your personal consultation.
FAQ
Are there any side effects I should expect after my Restylane injections?
Dermal filler injections use extremely finely-gauged needles, but this treatment is still a subcutaneous injection. As a result, you may experience rarely slight bleeding, stinging, or bruising during and immediately after your injections. You may also experience some swelling at the injection sites. Keeping your head elevated, avoiding blood-thinners, and using a cool compress can help alleviate these symptoms. If you experience more severe reactions, contact your doctor. 
What's the difference between Juvederm and Restylane?
Think Coke and Pepsi. Doctors and patients may prefer either, but both of these fillers use hyaluronic acid as their key ingredient. They're produced by different pharmaceutical companies, but both offer volumizing and rejuvenating solutions.
Why are there so many different types of Restylane? 
The Restylane family of products has special formulations to target different treatment areas. It's good to have choices. For example, the delicate skin of the mouth requires a softer, more flexible gel than deep-seated nasolabial wrinkles. The addition of lidocaine in certain Restylane formulas also contributes to a more comfortable injection experience. 
References