Restylane Kysse
Conveniently located to serve the areas of Corpus Christi and South Texas
Restylane Kysse is an injectable filler designed to add some life and volume to your lips. It also reduces fine lines above the mouth and has been shown to improve texture and color. This exciting new technology is all the rage in Europe and is starting to catch on here in the United States. It is part of the popular Restylane family of products that smoothes out wrinkles and other fine lines. Tired of paying yourself lip service? Reward yourself with a set of nice lips.
Schedule a consultation with Dr. Hervé Gentile or call (361) 881-9999 to see how you can give your lips some added plumpness.
About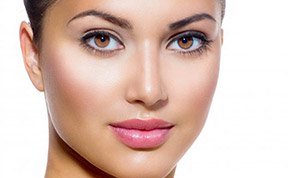 Kysse is a relatively new filler that is used to create softer and supple lips. The Federal Drug Administration (FDA) recently gave Restylane Kysse approval for use in the U.S., and will usher in a new way to make lips look like their younger self. The treatment flawlessly streamlines the mastery of science and art. It contains hyaluronic acid (HA) formulated with XpresHAn Technology. This chemical compound allows for smooth, natural-looking results that integrate into the skin flawlessly. Some patients have noted that certain lip fillers feel more comfortable than others. Kysse's XpresHAn Technology has changed that. It alters the way hyaluronic acid integrates into the specific area where it's needed.[1] By altering the way HA binds inside the skin, Kysse fully integrates into the area where it's injected, so it stretches when you talk or smile (or kiss!). This makes for a more supple feel and natural look. Results from Kysse can last up to a year and flows organically within a person's natural facial expressions.
If you're looking to make your lips more Kysse-able, contact Dr. Gentile for a consultation or call (361) 881-9999. We also conduct consultations virtually for added convenience.
How does Restylane Kysse work?
Aging is a way of life. As such, our bodies tend to produce less elasticity and collagen. These healthy proteins are all a part of an intricate web of subdermal support structures known as the extracellular matrix (ECM).[2] They depend on the steady flow of collagen production to maintain its shape and volume. 
Restylane Kysse reverses this decline by replenishing depleted lips and introducing hyaluronic acid to the underlying structure. Hyaluronic acid is a substance that we all produce naturally. It nurtures skin hydration for your skin.[3]
Benefits
Lips are all a part of our personality. They are a representation of who we are. They express language, ingest food, and convey non-verbal emotions. We use our face a lot, and eventually, it shows signs of aging. That is why we sometimes need to refresh it once in a while.
The main incentive of Restylane Kysse is its ability to increase the size and shape of the lips. These rewards are subtle yet noticeable. They have many added benefits:
Last up to one year
Renewed self-confidence
Diminish "smoker's lines"
Define the vermilion line (the upper arch of the top lip)
Smooth away wrinkles in the perioral region
Start pouting those lips and experience all the benefits of Restylane Kysse for yourself. Contact Dr. Gentile and his friendly staff will schedule your consultation. Or, call us at (361) 881-9999.
Candidates
Healthy patients who are looking to step up their lippy look by adding more definition are ideal candidates for the Kysse treatment. Let our team know your medical history and allergies as some Restylane products contain gram-positive proteins. [4] During your consultation, we can determine your eligibility for Kysse injections. 
Consultation
Our beachside office along the coastal bend offers a calming and relaxing atmosphere for our patients. For over two decades, Dr. Gentile's practice has devoted 100% to cosmetic surgery and medicine. His office offers personalized and compassionate care to everyone.
Feel free to check out our blog to learn about the services we offer.
During your initial consultation, you will get the chance to open up about your aesthetic goals and concerns. He will review your medical history and examine the areas you would like to focus on. If you're deemed a good candidate, you may be able to get the treatment on the same day!
Preparation
The entire process is pretty straightforward so there is not much to worry about. It is advised that our patients quit smoking at least three weeks before treatment as this may interfere with the treatment and recovery process. Tobacco products deprive the skin of hydration. Kysse is meant to bring that hydration back. Our staff may also recommend that you stop taking certain medications or supplements.
We will review all details including how to prepare so we can minimize any discomfort on your procedure day.
Procedure
We want you to feel right at home when you arrive. On the day of your treatment, you will get to ask any remaining questions. Once done, we'll place you inside our treatment rooms where the solution is placed beneath the skin using an ultrafine needle for accuracy and minimal discomfort. The entire process should take about 30 minutes.
Recovery
Every patient is unique. However, many patients enjoy little to no downtime. That's how good this is! To minimize swelling and bring, you should avoid alcoholic beverages, exercise, and prolonged exposure to the sun or heat for about a few days after your treatment. Applying ice immediately after the procedure also helps minimize bruising. You can immediately notice the shape and size of your new glamorous lips. However, the full effects of Kyssee may take about 3-5 days to show. Do not rub or scratch your treatment site. You may notice temporary redness or swelling around the injection site but this should go away within a few hours of your treatment. It can be treated with Arnica topical creams and apple cider vinegar.
Results
Patients have reported they see visible results right away. This is because the volume placed underneath the surface of the skin starts to smooth out wrinkles after the injection. Thanks to Restylane's innovative XpresHAn technology, your new luscious lips could last up to a year.
Corresponding & Complementary Procedures 
Restylane Kysse is a wonderful tool for anyone looking to add some fullness to their lips. Those considering other areas to adjust could choose from several different procedures Dr. Gentile offers.
The signs of aging are more noticeable on the face than any other part of the body. The appearance of aging doesn't always go hand in hand with how we feel on the inside. Many reasons contribute to an aging face including heredity, stress, sun exposure, and more. Loss of skin elasticity causes the skin to relax. It alters how your face is shaped and the way you look. A facial rejuvenation surgery may be in the cards for you if you are looking to reduce the signs of aging in the midface area, eyelids, eyebrows, and forehead.
FAQ
Which filler should I pick: Restylane or Juvederm?
Juvederm and Restylane are two types of dermal fillers available to you that are used to treat anything from smoothing out wrinkles or pumping your lips. Both contain the essential ingredient to plump the skin: hyaluronic acid. And, both are non-invasive procedures. [5] They have their similarities but also have some distinct differences to note. To learn more about both, the cost involved, and what they can do for you, schedule an appointment with us.
How long does Restylane Kysse last?
Expect to see some results right away, but the full effect will take 3 – 5 days to develop.. Patients have reported that results have lasted up to one year. 
Is there any downtime required for Kysse?
There is usually no downtime required for Restylane products. The process is very easy and patients can resume normal activities within the same day. Some symptoms may arise like swelling, tenderness, and bruising at the injection site. Our offices will instruct you on how to alleviate these symptoms.
Why are there so many different types of Restylane? 
The Restylane line of products was designed to cater to as many people as possible. Each patient has specific needs. We understand it's overwhelming but that is why we are here to help. We are more than happy to explain what options are right for you.
References