The Beauty Makers Preview
Conveniently located to serve the areas of Corpus Christi and South Texas
By C.C. Risenhoover and Don Patterson
(pages 94-99)
Dr. Hervé F. Gentile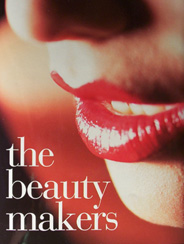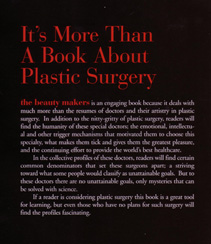 Dr. Hervé Gentile thinks the time he spent in Italy, along with his education there, profoundly affected his genius for plastic surgery especially for facial plastic surgery.
The Corpus Christi, Texas-based doctor is a third generation Italian who was born in-and grew up in-Maryland, but ended up in Italy because his parents wanted to retire there. And it was there, he said, that he became fascinated with faces and, in particular, noses.
"I think I see faces the way an artist sees faces," Dr. Hervé Gentile said, "and you can't spend time in Italy with being influenced by the art that permeates the country. In fact, I would estimate that seventy percent of the world's great art is in Italy and today Italy is recognized as a leader in style and fashion."
The country's artistic bent certainly influenced the doctor who, while living in Italy, began sculpting and painting in oils. He is an accomplished painter and sculptor, and still does both on a limited basis when his practice permits.
"A knowledge of art enables you to better understand human anatomy, and especially the face," he said. "I think it also makes you more perceptive of a patient's needs. And I think it triggered my fascination with the finer and more artistic part of plastic surgery."
The possibility to perform wonders through creativity is what drives Plastic Surgery and all of the arts and to which Dr. Hervé Gentile has always aspired.
Dr. Hervé Gentile's interest in plastic surgery matured early while studying at the University of Padua Medical School in Italy, the second oldest medical school in the world. Speaking about his educational experience in Italy, the doctor said. "The emblem chosen by the American Board of Plastic Surgery is that of Gaspare Tagliacozzi, who laid the cornerstone for modern plastic surgery by reconstructing the nosed of patients in Bologna. In fifteen ninety-seven he published De Curtorum Chirurgia per Insitionem, which was the first textbook ever on plastic surgery."
Following his study at the medical school in Italy, Dr. Hervé Gentile returned to the United States and the University of Maryland Medical School where he completed general surgery and ear, nose and throat/head and neck surgery training. He then went to Rome, Italy to complete a fellowship in cosmetic and facial plastic surgery with Professor L. Ponti, a world-renowned plastic surgeon and early pioneer in cosmetic surgery.
"Being exposed to Dr. Ponti's office and the way he treated patients certainly influenced me," he said. He treated patients like gods. There was a two-year waiting list for people wanting him to do their surgery.
"What's different about doctors with the same or similar skills may be in their understanding of a patient. Some doctors are very perceptive about patients and have more of a knack for understanding what they want. Dr. Ponti was like that, and I learned a great deal about the keys to understanding a patient from him. Each patient is a unique individual with unique characteristics. Therefore, a full range of alternatives and choices need to be made available and the surgeon needs to possess all the skills necessary in order to deliver each and every choice. It is this combination of knowledge, skill, talent and experience, combined with overall style that separates surgeons."
When Dr. Hervé Gentile returned to the states it was to Corpus Christi, where he practiced facial plastic surgery until he began a residency in plastic surgery at the Medical College of Georgia under the tutelage of Dr. Kenna Given, present chairman and founder of the plastic surgery program at the school and past chairman of the American Board of Plastic Surgery. Dr. Gentile currently holds an active teaching position at Medical College of Georgia as a Clinical Assistant Professor of Plastic Surgery.
The doctor's professional background also includes military services in the United States Air Force flying the F4 phantom. In that capacity he had the opportunity to enjoy the "high untrespassed sanctity of space."
As a fighter pilot you experience this unique spirituality that the man and the machine become a single entity whereby it is like you put out your hand and you were able to touch the face of God. This experience also contributed towards the formation of the necessary discipline and quick decision ability required of Dr. Hervé Gentile to complete the rigorous years of residency training necessary to become a complete and well-rounded Plastic Surgeon.
When Dr. Hervé Gentile decided to build A BETTER YOU Cosmetic Surgery and Laser Center in Corpus Christi, he put his artistic abilities to work and designed it himself. It's a modern, private and environmentally friendly complex located on Ocean Drive, which winds along the beach and shoreline of the Gulf of Mexico.
"Our center is a complete, in office, outpatient cosmetic plastic surgery facility," he said. "It was planned and constructed to include the most current technology and equipment available. The surgery suite was designed for the patient's comfort, convenience and privacy with all the safety features of a hospital location, but without the added expense and inconvenience of hospital care. In addition to offering laser procedures, facial peels and microdermabrasions, a new spa room has been added to complement these services.
"We maintain the highest standards and staff the center with an outstanding anesthesiology group. It's important to us that the patient feel cared for from initial consultation and through both the pre-and postoperative course."
Dr. Hervé Gentile said he and his staff attempt to develop a genuine and compassionate relationship with each patient, which, hopefully, creates a lifetime bond based upon frank communication, warmth and trust. This is created by an implacable personal commitment to the patient and her/his well-being.
"We measure our success by the number of patients who refer their family and friends to us," he said. Since Dr. Hervé Gentile believes that God has a unique way of achieving harmony and this harmony should only be improved upon but never altered, he prefers graceful elegance and the natural look over the shock-style plastic look.
It is a myth to believe that a plastic surgeon can routinely take any face or body and make it look like someone else or that your personal life will dramatically change with plastic surgery. Just like it is a myth to believe that actresses, models, and pop stars all look great in real life (makeup and air brushing is wonderful) or that what looks commonplace in Hollywood and New York City often looks good.
Dr. Hervé Gentile's tip is that if you seek plastic surgery, yes, you can expect to improve your looks and raise your self esteem, but you must be prepared to have realistic expectations and spend time searching for your choice of the right surgeon and there are many surgeons practicing cosmetic surgery without proper qualifications. Dr. Hervé Gentile believes that unnatural and unfavorable results often occur when unskilled or incompetent surgeons try to perform the appropriate operation or when adequately trained surgeons perform the inappropriate operation.
Dr. Hervé Gentile said Corpus Christi could not be compared to cities such as New York and San Francisco, where there is seemingly no end to the number of wealthy patients seeking plastic surgery. Today it has become very affordable for everyone. There is a plethora of financial companies specializing in offering their services to patients desiring cosmetic surgery. Tomorrow everything can happen and we all desire to be there and at the same time look and feel the best. This is why I feel cosmetic surgery in the future can only get better.
The doctor, who is triple American Board certified in Facial Plastic Surgery, Plastic Surgery and ENT/Head and Neck Surgery said, "I've dedicated myself to the highest standards of the art of plastic surgery, but I never forget the human need."
To that end he donates a portion of his time to the local children's hospital, doing cleft lip and palate surgery and reconstructing other congenital deformities on infants as young as three to four days old. There is nothing more gratifying than being able to restore a more normal function to a child or a baby, and see his smile some years later. Ultimately this is what Dr. Hervé Gentile thinks is his purpose in life.