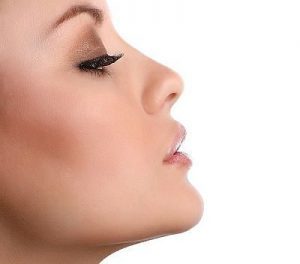 Rhinoplasty surgery is one of the most challenging but rewarding procedures a plastic surgeon can perform. Dr. Hervé Gentile, a specialist in primary and revision Rhinoplasty, is triple board-certified in the three specialties that encompass nasal surgery. Dr. Gentile is a recognized authority in cosmetic surgery who teaches other plastic surgeons: if you are considering rhinoplasty, your nose is safe in his hands.
The nose defines the face: it is no surprise that rhinoplasty is one of the most popular procedures among both men and women.
If you are unhappy with the look of your nose and are uncertain if rhinoplasty is right for you, Dr. Gentile is here to help. Below is a list of some of the top questions Dr. Gentile receives from his rhinoplasty candidates:
What is Rhinoplasty? 
Rhinoplasty, also commonly known as nasal reshaping or a nose job, alters the shape of the nose to achieve a cosmetic improvement, or function improvement, or in some cases, both. The procedure can be performed non-surgically in some cases for convenient, short-term results or surgically to achieve a life-changing, long-lasting transformation! 
What does Rhinoplasty do?
Rhinoplasty can be performed to make a cosmetic improvement to the nose, improve nasal function or repair damage sustained to the nose. Rhinoplasty can:

• Smooth away a dorsal hump
• Alter the upper lateral cartilage and bones
• Build up the dorsum (nasal bridge) to address a small nose
• Bring in the sides of the nose to shorten nose base
• Address nasal septum to improve breathing
• Reshape nasal tip
• Correct damage sustained through injury
• Address a birth defect
What are the benefits of rhinoplasty?
Dr. Gentile custom-tailors every rhinoplasty procedure to his patients' unique goals. Benefits of surgical rhinoplasty include long-lasting results, greater self-esteem, and more comfortable breathing. The positive results of rhinoplasty will draw attention to the eyes and improve overall facial balance. 
Is rhinoplasty covered by insurance?
Cosmetic rhinoplasty is not covered by insurance. If patients desire rhinoplasty to improve breathing function or to correct damage to the nose, some insurance companies may pay for the surgery. Patients will need to provide their insurance provider with photographs and Dr. Gentile's operative note.
What is the age limit for rhinoplasty?
The facial structures should be completely developed before patients qualify for rhinoplasty. Patients should be over the age of sixteen before undergoing a rhinoplasty. 
What is considered a perfect nose? 
If someone tells you there is such a thing as a "perfect nose," do not believe them! The best nose is one that fits harmoniously with an individual's unique facial features. 
What is Same-Day Rhinoplasty?
Same-Day Rhinoplasty is a non-surgical rhinoplasty that delivers results in just minutes! Same-Day Rhinoplasty is an excellent option for patients who do not feel ready for surgery but who would like to address minor asymmetries in their nose. Dr. Gentile uses an injectable filler to perform non-surgical rhinoplasty and add volume to the appropriate area of the nose. This simple step can achieve a major change in the shape of the nose. For example, Dr. Gentile can erase a dorsal hump with a single injection. Dr. Gentile will discuss this option with you if he believes your desired goals will be best achieved with same-day rhinoplasty. 
What is Revision Rhinoplasty?
Revision rhinoplasty corrects the results of previous rhinoplasty work. If you are unhappy with the outcomes of past rhinoplasty surgery, consider Dr. Gentile! Corrective rhinoplasty requires a high level of technical skill in order to achieve beautiful results with patients' remaining skin, bone, and cartilage. 
What is open and closed rhinoplasty?
Open and closed rhinoplasty refers to the incision placement during the surgery. The rhinoplasty technique you receive is a matter of the goals of your procedure. A closed rhinoplasty is performed with all incisions and changes concealed inside the nasal structure. Surgical markings are hidden within the nose. Closed rhinoplasties require higher technical expertise and patient recovery times are reduced.  Dr. Gentile most commonly uses this technique.

Dr. Gentile in an open rhinoplasty makes an incision in the skin between the nostrils, also known as the columella.  Through this careful incision in the skin the internal structures of the nose are revealed. This increased visibility enables a precise, targeted surgery. Open rhinoplasty is an effective way to address asymmetry and revision rhinoplasty cases where patients desire a change in nasal projection or in the nasal tip. The drawback is a small fine scar on the columella.
What is the best rhinoplasty technique?
There are no one-size-fits-all rhinoplasty techniques. Dr. Gentile prefers the closed technique, but takes time with each case to select the technique that is most appropriate for a person's existing nasal tissue and personal aesthetic goals. He will answer any questions you have and discuss your desired outcomes during a private consultation. After a close examination of your nose and underlying structure, Dr. Gentile will make a recommendation of the rhinoplasty technique that is right for you and your unique case. 
Are male and female rhinoplasty different?
While every man or woman's nasal structure is unique to his or her face, there are general differences in the characteristics of male versus female noses. Male noses tend to be larger than female noses, with a wider dorsal hump. Female noses tend to have a more angled shape when viewed from the front and underneath. In some cases, female patients prefer an overall softer look to their nasal contours. 
How long is rhinoplasty surgery? 
Rhinoplasty surgery is performed over one to two hours. If a septoplasty will be performed to correct the middle separation of the nose, also known as the septum, the procedure may be a bit longer. 
Where will I undergo rhinoplasty?
Dr. Gentile performs surgical rhinoplasty in his accredited surgical office suite at A Better You Cosmetic Surgery & Laser Center. Non-surgical rhinoplasty is performed in-office at our surgical center.
What type of anesthesia is used for rhinoplasty?
Patients have the option of having rhinoplasty under local anesthesia with IV sedation or general anesthesia. Local anesthesia and IV sedation will control pain at the surgical site and allow patients to breathe comfortably in a twilight sleep. 
How is Rhinoplasty performed? 
Dr. Gentile will perform either open or closed rhinoplasty, depending on the needs of the patient's unique case. He prefers to perform the closed approach due to the fact that it produces no visible scarring. Using incisions in the nose, Dr. Gentile will make the appropriate changes to the nasal tissue and cartilage. During surgical rhinoplasty, Dr. Gentile can elevate and sculpt the nasal tip, widen the sides of the nose, remove or build up the nasal hump, and trim and reposition the upper cartilage. The septum may additionally be addressed to improve patient's breathing. If patients need revision rhinoplasty, Dr. Gentile will begin the operation by making an inverted V incision where the columella meets the upper lip.  Once the surgery is complete, Dr. Gentile will close any incisions with dissolvable stitches. The nose may be placed in a splint. 

In order to perform non-surgical rhinoplasty, Dr. Gentile will inject the chosen dermal filler into a targeted area of the nose. Often, only a tiny amount of filler is needed to make a major change in the shape and silhouette of the nose. 
Is a nose surgery dangerous? 
When performed by an experienced, board-certified surgeon like Dr. Hervé Gentile, rhinoplasty is a safe, rewarding procedure. Rhinoplasty is a major cosmetic decision and should be performed by a board-certified surgeon who patients trust. Take time to do research and meet with a rhinoplasty surgeon near you. 
Does nasal surgery hurt?
Dr. Gentile takes care to give his patients an enjoyable, pain-free experience from the moment they arrive at A Better You Cosmetic Surgery and Laser Center. Patients are kept 100% comfortable during their rhinoplasty with their preferred anesthesia method. 
How long is recovery from a rhinoplasty? 
Patients are able to return to their daily activities within seven to ten days of rhinoplasty. Bruising and swelling will occur following surgery, but will be majorly resolved within seven to ten days. Patients will return to have their splint removed within a week. Medication will be prescribed to help patients control post-procedure discomfort. Strenuous exercises and activities that can cause injury to your nose should be avoided for six weeks. 
Is rhinoplasty right for me? 
Ideal rhinoplasty candidates are in overall good health, unhappy with the shape of their nose, and have open but realistic expectations for the outcomes achievable with rhinoplasty.
How much does a good nose job cost?
Rhinoplasty pricing reflects the details of patient's unique treatment plan. Surgical technique, anesthesia method, and the scale of the rhinoplasty will impact procedure pricing. Once patients agree on the goals and surgical approach of their rhinoplasty with Dr. Gentile, they will receive their personalized pricing quote.

If patients decide they would like to maintain their non-surgical nose job results for the long-term, Dr. Gentile will discuss the cost-benefit of future injections versus a one-time rhinoplasty procedure. 

Is rhinoplasty permanent? 
The improvements of surgical rhinoplasty are permanent. A surgical rhinoplasty has in fact shown to curtail the growth of nasal tissue and development of thicker skin on the nose, something which often occurs naturally to the nose with age.

The results of non-surgical rhinoplasty last between nine months and two years, depending on the chosen filler and patient's body chemistry.