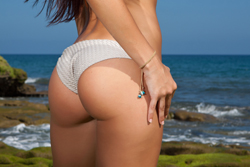 Beautiful curves and an enviable behind are within your grasp – with the help of buttock implants! These implants offer the volume you've been missing. Part of this procedure is buttock augmentation recovery.
Some degree of swelling is normal for buttock augmentation recovery, as this is part of the body's healing process for tissues. It may be necessary to wear a supportive garment on the buttocks area for three days to two weeks in order to keep swelling down and support the tissue in the area.
Your patience during buttock augmentation recovery will be rewarded. In around three months after the procedure, the swelling should be gone and the implants will have settled, leaving the great results for all to see.
Pay a visit to board-certified plastic surgeon Dr. Hervè Gentile. To arrange a consultation about buttock implants, contact our office.