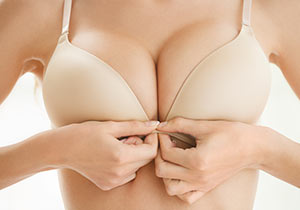 Breast augmentation is one of our most popular procedures.
Our staff prides themselves on being able to provide quality care and a positive experience for our patients. Along with every phone call and consultation, we commonly answer a wide range of questions about breast augmentation preparation, surgery, and post-operative recovery. Our goal is to provide our patients with resources to answer their questions and help them feel well-informed about this transformative treatment.

How do I prepare for breast augmentation?
The first step down the path to fuller breasts is to schedule a consultation with Dr. Gentile or a trusted, board-certified plastic surgeon. This meeting is your opportunity to ask questions and discuss your concerns. Dr. Gentile will take the time to address your thoughts and help you understand the details of breast augmentation surgery. Some questions will be specific to your features and desired outcome. 

A few good questions to ask Dr. Gentile and get the ball rolling include:

• How long will my surgery take?
• When will I be able to get back to work?
• What is needed from me to achieve a healthy recovery?
• Can I see before-and-after photos of breast augmentation?
• Do any of the before-and-after photos seem similar to my case?
• When will I be able to see my results?
• When can I wear bras again?

Dr. Gentile will also inform you how best to prepare for your upcoming surgery. This will include putting a hold on smoking habits and adjusting medications and supplements. Aspirin, Advil, Motrin, Garlic, Fish oil, and many other herbs and supplements are examples of pills patients should avoid in the weeks leading up to their procedure.

You will also need to take extra steps to ensure that you are prepared for your recovery. We recommend you set aside an area of your home where you can rest comfortably without disruption. This area should be stocked with extra pillows, healthy snacks, water bottles, medications, and forms of entertainment. You will need to arrange for someone to drop you off and pick you up from your surgery. We also suggest having a family member or a friend stay with you for the first few nights of recovery. It is a big help to have someone around assisting you as you recover and adjust to movement.

The night before surgery, you will need to fast from all foods and liquids. This fast will last for eight hours and help prepare your body for breast augmentation. Get a good night's rest and give yourself plenty of time to get to your appointment on the day of your surgery.
How painful is a breast augmentation?
A breast augmentation surgery is not painful. The procedure is performed under anesthesia and sedation, allowing you to remain asleep through the surgery. After surgery, you will experience some swelling and bruising that will be uncomfortable. Swelling symptoms can be diminished with elevation and brief walks are helpful. Your symptoms will not last too long and pain medication will help manage any discomfort. Dr. Gentile will provide you with pain medication for those few days, after that point taking over-the-counter medications should be enough to stave away discomfort. We recognize that each patient is unique and will have a particular pain tolerance. Please give our office a call if you have persisting pain or would like additional assistance with your recovery.
How long does it take to recover from breast augmentation?
After surgery, you will be monitored in a recovery room. When you have been discharged, you will be able to return home to begin your recovery. Everyone will undergo a healing process that is particular to them and their health. Most patients are moving around by the next day and most can return to work within 3 – 4 days. Strenuous activities, lifting and elevating the arms above the shoulders will need to be avoided for four to six weeks. 

Dr. Gentile will guide you every step of the way to ensure you have a healthy, positive recovery. This will be accomplished with follow-up appointments. Dr. Gentile will schedule an appointment to see you one to two weeks after surgery and a second appointment four to six weeks after surgery. More appointments may be necessary depending on your procedure, how you are recovering and what you would prefer. These appointments will be an ideal time to ask all of your new questions and get updated on when you can return to normal activity. We encourage patients to attend their follow-up appointments as they are a crucial step in achieving a healthy, beautiful result.
What is meant by breast augmentation?
Breast augmentation encompasses surgeries and procedures that enhance the breasts by increasing their volume. At A Better You Cosmetic Surgery and Laser Center, we offer our patients multiple breast augmentation techniques that will help them achieve fuller breasts. Our methods include cosmetic surgery enhancement with implants and less invasive techniques such as the Brava System or fat grafting.
What is the difference between a breast lift and augmentation?
Breast lift and breast augmentation are two cosmetic surgeries designed to improve the appearance of the breasts. However, a breast lift addresses sagginess by adjusting the breasts to a higher, more youthful location on the chest whereas a breast augmentation will fill out the breasts and help them appear rounder, perkier and fuller. These procedures are commonly combined and are often sought out by women who have given birth and breastfeed as well as ladies who have lost a lot of weight. A breast lift will allow Dr. Gentile to masterfully shape the breasts by removing excess tissue, raising the breasts and making them more voluptuous with a breast augmentation procedure.

If you are interested in learning more about a breast lift or breast augmentation, check out our procedure pages or click here to schedule a consultation.

Do I need a breast lift and augmentation?
Most women know they need a breast lift and augmentation because their breasts hang down, their nipples point downward and they have no more fullness or cleavage in the top of their breasts. This may cause women to feel self-conscious and embarrassed to wear low-cut tops. If you are feeling self-conscious of your chest and have been considering cosmetic surgery for a while, these procedures can give you incredible results. We offer a treatmen that automatically combines a breast augmentation and lift.
Do breast implants lift your breasts?
Breast implants can make your breasts appear lifted but for many women, breast implants are not enough to provide the lift they desire and need. Implants are a great way to fill out the breasts and return fullness to them. For many, implants provide the opportunity to achieve their ideal size breasts. Dr. Gentile will inform you if a breast lift will be necessary to improve your chest or if implants will be enough.
How long do saline implants last?
Saline implants will last years! It is important to attend annual breast exams and check-ups to make sure your implants are in good condition. Many women have their implants replaced around ten years to ensure their outcome is preserved and they remain in good health. Dr. Gentile will shed some more light on this subject during your private meeting with him.
What are the options for breast augmentation?
We provide many breast augmentation options at our office. Implants are a common choice because they can be customized to the outcome you most desire. 

We provide our patients with structured implants, Ideal implants, saline implants, silicone implants.  The texture, shape, size, and projection of these implants can be customized to your desired outcome. Implants offer detailed customization and will help you retain impressive results for years to come. All of the textured implants including the gummy bear implants have been removed from the market due to concerns of an association with a very rare cancer (Anaplastic Large Cell Lymphoma).

Structured (Ideal) Implants
These implants have multiple layers filled with saline and the implant's inner chamber is divided into two. Multiple layers help the implant keep their shape over time and allow for a natural feel. Their advantage is on touch they feel similar to silicone but without the risk of silicone extravasation. Ideal implants provide our patients with beautifully enhanced breasts and peace of mind.

Saline Implants
These implants come in a silicone shell and are filled with a saline solution.

Silicone Implants
Silicone implants are also made of a silicone shell but are filled with a silicone gel that provides a more natural breast feel but they are associated with a higher risk of complications. They have been replaced by the structured implants which are much safer.

Brava System with Fat Grafting
This treatment involves multiple techniques to remove unwanted fat and relocate it to the breasts. Liposuction will be used to remove unwanted fat from a donor area. These area(s) often include the thighs, butt, abdomen, and/or back. The fat is purified of waste materials and other impurities to ensure maximal fat transition. The processed fat is then placed in syringes and injected into the breasts. Fat grafting is best achieved alongside the Brava System. The Brava AFT system is a device that applies vacuum pressure to the breasts. The device is held in place by a bra for about three weeks and will create spaces in your breasts where fat can easily go. This treatment allows women to gain at most one cup size.  The advantage of fat grafting is that you are using your own tissues to enhance your breast and at the same time your curves, maximizing your results.
Which incision is the best for breast augmentation?
There are a variety of incisions that can be performed for breast augmentation. The three standard incisions are inframammary, periareolar and axillary.

Inframammary
This incision is made along the crease of the breast. This incision is preferable for many women because any scarring will be hiding in the natural fold of the breast. This incision also has the least complications.

Periareolar (around the nipple)
An incision will be made along the border of the areola and will be difficult to notice after the area has healed. One of the drawbacks is that implant placement route is through the breast tissue.

Axillary
This incision is performed alongside an endoscopic procedure. An incision is made in the armpit through which the implant will be placed. This incision allows for no scarring in the chest but is associated with implants settling higher.  When wearing bikinis it becomes very visible and the scar can be irritated by sweating.

The type of incision that is best for you will be determined by Dr. Gentile during your consultation. You will discuss your options during your private meeting and determine your best solution for your body and goals.
What type of implants are best?
The best implant will depend on your preferences and body goals. We offer saline or structured (Ideal) implants. These implants each come with a way to be personalized to your features and desired aesthetic. Each implant also has a list of pros and cons that Dr. Gentile will go through with you during your private meeting. Schedule a consultation today and look through your options on our website. When you come to our meeting, have an implant type in mind that interests you. Dr. Gentile and you can focus on that implant and figure out if it is your best option. We will make sure to take the time to design your safest, healthiest breast augmentation.