Butt Augmentation with Fat Transfer
Conveniently located to serve the areas of Corpus Christi and South Texas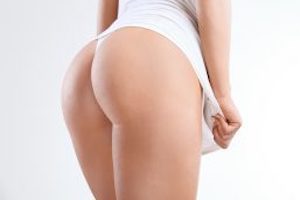 Decisions, decisions—buttock augmentation procedures have ballooned in popularity, but there a couple of different ways you can go in your journey for the best behind. Natural enhancement, also known as the Brazillian Butt Lift (BBL), is safe and long-lasting, thanks to our Fat Transfer procedures at A Better You Cosmetic Surgery and Laser Center. Buttock Augmentation with Implants, on the other hand, provides reliable and realistic results, even if you don't have enough donor tissue available for fat graft. Fat transfer to the buttocks is a combination operation that comes with the added benefits of our Liposuction body contouring procedure. We remove unwanted fat from troublesome areas like the belly, flanks and thighs, then we graft this fat directly to your derriere! However, there's no denying the eye-popping appeal that implants provide. The results of the augmentation are anything but subtle.
The best part is, you don't have to choose! Buttock augmentation and fat transfer are better together. Fat transfer to the buttocks provides comprehensive contouring. The results are a slimming and sensual upgrade to your entire silhouette. Butt implants take your figure to the next level. They produce a true long-lasting enhancement that is both dramatic and alluring.
Dr. Hervé Gentile is one of the first triple board-certified plastic surgeons in the United States (Curriculum Vitae). His Corpus Christi-based practice brings his fine European training to the sun-soaked beaches of South Texas. Contact A Better You Cosmetic for some face time with a master. Call (361) 881-9999 to schedule a consultation.
About the Butt Augmentation Trend
Public appreciation for a finely sculpted rear end is more evident than ever these days. The aesthetic trend is due in no small part to social media influencers and high profile celebrities like Jennifer Lopez and Kim Kardashian. These shapely women have changed the contours of the conversation about what constitutes a beautiful body in our day and age.
The Brazillian Butt Lift is among the most popular procedures in plastic surgery today.
Data from the American Society of Plastic Surgeons confirms there was a 28% increase in butt augmentation from 2014 to 2015. According to this same data, on average, a person gets a fat transfer procedure to their buttocks every 30 seconds.[1]
Fat grafting alone has its limitations, however. For a truly stunning hip-to-waist ratio that would be otherwise unattainable, implants are the answer. Buttock implants are composed of a semisolid silicone gel that is resistant to rupture. Augmentation is a safe and satisfying procedure for both patient and surgeon.[2] The implants contribute more volume and projection to your final look, no matter what your anatomy. With implants, your results do not rely upon the amount of your available donor material. You can select your new booty like you're shopping for skinny jeans—just pick out the size and shape that you find most appealing!
Global Butt Enhancement: The Best of Both Worlds
The natural look and response of autologous fat grafting vs. the dramatic results implants for augmentation does not have to be an either-or proposition. In fact, these two procedures complement each other perfectly, achieving outcomes that are as soft and natural as they are truly transformative. Consider an all-inclusive upgrade to your backend assets with the buttock augmentation and fat transfer procedure.
Check out our positive reviews to see our scores of grateful patients!
Benefits of Butt Implants With Fat Graft
The two-fold benefit of fat transfer with buttock implants is a big part of the procedure's popularity. It puts fat from unwanted areas to good use as a source for natural enhancement. While the ravishing results of augmentation with implants can be quite literally jaw-dropping. Your significant other won't believe his eyes!
The results of autologous fat grafting are long-lasting. As the graft rejoins the body's blood flow, it reincorporates as a living part of you.[3] The final outcome of fat transfer can seem too subtle to some, however, as almost half of your surgery day results are eventually reabsorbed by the body. But when your buttocks are enhanced by implants, your head-turning behind will be in full bloom for years to come.
Your Personal Consultation With Dr. Gentile
Dr. Gentile takes a holistic approach to medicine and aesthetic enhancement.
"I have dedicated myself to the highest standards of the art of plastic surgery, but I never forget the human need."

Dr. Hervé Gentile on his craft
Your personal consultation with Dr. Gentile is a chance to ask questions of an expert in the field. Come prepared for your consultation. Be sure to bring along any relevant medical records that will be pertinent to the doctor while he determines your candidacy for the procedure.
Dr. Gentile will recommend your personalized course of treatment based on your goals and the results of your physical examination. Contact us to learn more. Call (361) 881-9999 to schedule your consultation. In the meantime, peruse our FAQ page for a sampling of answers to frequent patient questions.
Surgical Steps
All of our procedures at A Better You Cosmetic Surgery and Laser Center adhere to the highest quality guidelines as articulated in Dr. Gentile's Mission Statement. Part of this mission is ensuring that all of our patients are properly educated on their selected surgery. Below, we outline the basic steps of the butt augmentation with fat transfer procedure.[4]
Fat Harvest
In the fat harvest phase, Dr. Gentile employs liposuction to preselected areas of the body. Common harvest zones include belly, thighs and love handles.
Purification
In order to be viable for transfer, Dr. Gentile must first purify the harvested fat. Typical means of purification involve spinning the fat in a centrifuge or draining it through a surgical sieve.
Adding Implants
Dr. Gentile makes all of his incisions while you are under anesthesia. He skillfully hides any potential scarring in the cleavage between your cheeks. He then carefully places the silicone implants where they will produce the most flattering fullness and optimum projection.
Fat Transfer
Finally, Dr. Gentile grafts the purified fat to the target site: the buttocks. For patient safety, autologous fat injections are aimed just below the surface of the skin. To make sure Dr. Gentile employs the ultrasound to guide and maintain the cannula in the right plane.
Rear End Recovery
Recovery time for buttock augmentation with fat transfer takes about a month, on average. Although it can take as long as six weeks, for some. You should allow yourself about two weeks of downtime before returning to work.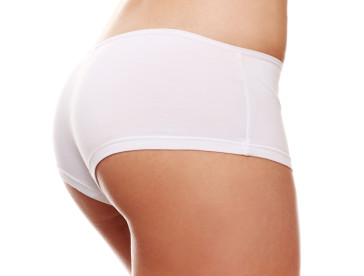 Keep your derriere in the air during your downtime. That means no sitting on your rump while you wait for your graft to take. After the first two weeks, you should strictly limit the time spent on your bottom. Many doctors recommend using a donut or inflatable pillow to keep pressure off the graft site when you must sit.
Avoid high impact activities for the first month of recovery, especially those that involve running or bouncing. After one month, you may return to light activities, such as brisk walking. At two months, you may resume normal activity.
How Long Does It Take for Fat Grafting to "Take"?
It takes the fat graft about three months to stabilize. After three months, your remaining results will be long-lasting. Your aftercare instructions should include a compression garment. This "elastic underwear" applies pressure to the graft site, stimulating blood flow to your autologous fat transfer. The goal of a fat graft is to join new tissue to the target site so that the two ultimately become indistinguishable. As the graft accepts the new blood supply, it grows and becomes increasingly integrated with the living tissues of its "new home," producing long-lasting results.
What Does a Buttock Augmentation With Fat Transfer Cost in South Texas?
Every patient's aesthetic journey is unique, and so is their course of treatment. At your personal consultation, Dr. Gentile will learn all that he needs in order to quote you an accurate cost. Financing options are available for those who qualify.
FAQ
How long do butt implants last?
Your buttock augmentation will last 10 years or more. The results are long-lasting and, in the hands of a skilled surgeon, the procedure is safe. Silicone implants are not lifetime devices. As your prosthetics endure the wear of a life well-lived, and as the technology continues to improve, you will be obliged to refresh your buttock implants with new ones. Keep your annual follow-up appointments with your doctor. They will monitor your augmentation help keep you healthy and looking your best!
What are the side effects of fat transfer?
Fat transfer to the buttocks comes with some expected side effects, as one might anticipate from any surgical procedure. Side effects include bruising, swelling, temporary numbness, irregular contour, asymmetry and possible infection. There will be some small scars from the incisions at the surgical site; these will fade, but not completely disappear. Any post-op pain should begin to decrease after the first week. Please follow all of your doctor's aftercare instructions with fidelity. Avoid putting stress and strain on the graft site, this includes both excessive sitting and vigorous activity—both may compromise the full flowering of your results.     
Does fat transfer really work?
Yes, it does. What's more, buttock augmentation by way of fat transfer also contours your waist, thighs and other areas with unwanted, excess fat. Autologous fat grafting to the buttocks produces natural-looking, long-lasting results. That's because adipose tissue can be more precisely shaped than silicone butt implants. Once your graft "takes," it will be fully integrated with your living fat. This offers an advantage over manufactured implants, which have a slim possibility of triggering an allergic response. Silicone implants are not lifetime items; they are in need of periodic "refresh" to upgrade, reposition or to replace worn devices. 
References